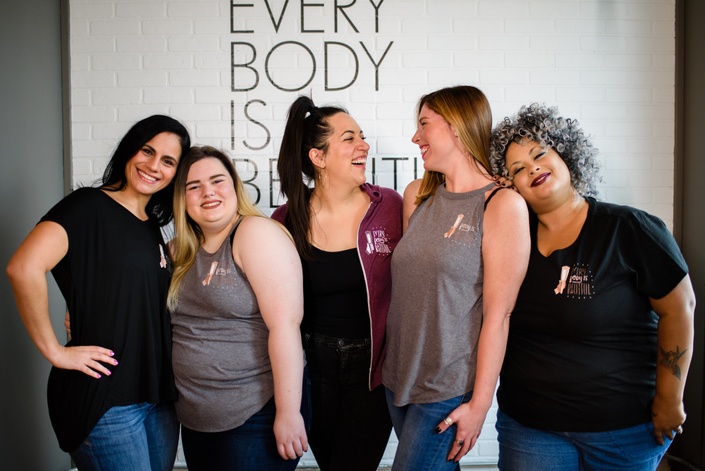 This digital course, offered in collaboration with our non-profit partner Ophelia's Place, is a 4 month online course, designed to help you gain a deeper understanding around eating disorder prevention and intervention, and strengthen your sense of body respect on both a personal and collective level.
Participants will complete The Body Project training, along with other continuing education in the areas of prevention and early intervention, Health at Every Size, body acceptance, body composition, Intuitive Eating and more.
The program is for you if...
You'd like to increase your own body acceptance and self-esteem, or help others in your community to do the same

You're ready to disrupt and reshape cultural norms around food, weight, exercise, health, and beauty ideals

You're passionate about spreading awareness around eating disorder and disordered eating signs, symptoms, prevention and early intervention

You want to do your part to promote access to treatment
Here's what you get:
completion of the body project training

monthly study + discussions of critical books that disrupt and reshape cultural norms around food, weight, exercise, health, and beauty ideals

8 audio and video expert interviews addressing these issues along with space for critical thinking + reflection

connection to a community of like-minded individuals from around the globe who share a passion for this work

a wrap-up coaching call with one of our educators for mentorship around using this education beyond the course

a certificate of completion and the possibility of joining Ophelia's Place team of educators
What others have said...
We're elated to share that 85% of folks who've completed the program reported that they now feel very or extremely comfortable spreading awareness around these issues!
"This program has given me the tools and, more importantly, the language to speak about these topics in a helpful, safe, and educational manner with my community and those I meet. I am more sensitive to the unique spectrum of body dissatisfaction and eating disordered experiences, rather than looking through the lens of my own. I feel more compassionate, educated, and competent in being a leader in this field. Beyond grateful. I feel that this program has given me the credentials to back up something I have always felt passionate about."
- R
"I feel stronger and more supported to do the work I was always meant to do around self-love, food and body image. It has allowed me to speak up in a group when normally I would feel so uncomfortable doing this. Really listening to multiple people's stories and expressing my truth has been powerful."

- D
"This program has helped me learn and grow from my own experiences that I have tried to sweep under the rug. I am now learning how to take up space, accept my own body just the way it is, and to speak up when the conversation gets uncomfortable. I can't thank you enough for the space you have given me to grow into my beautiful self."
- MP
The Logistics:
The course is paced to be completed within four months from the start date and we on-board new students at the beginning of each month.
Cost: $150 one time payment OR we offer a payment plan of 4 monthly payments of $45 in order to make the program as accessible as possible
*The cost of the program covers all course materials with the exception of the required books
Ready To Enroll?

Your Instructor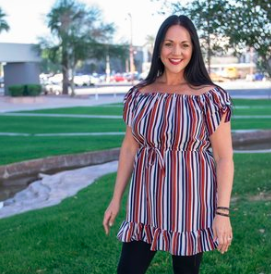 In addition to her role as Lead Educator for Ophelia's Place, Dena Larsen Gazeley is the owner/operator of All Bodies Consulting, located in the East Valley, Arizona. Focusing on eating disorder education, body image awareness, and self care, Dena has traveled nationwide, presenting to students and adults, both in schools and in private workshop settings. Combining her personal experience, recovery from eating disorders, her professional role as an Arizona Certified Teacher, and her passion for Recovered Fitness, Dena's number one passion is providing connection and hope through relationship with others.
Course Curriculum
Community Hub
Available in days
days after you enroll
Frequently Asked Questions
When does the course start and finish?
We onboard new students at the start of each month. From the time you officially begin, the course can be completed in 4 months' time.
How soon can I enroll?
You can get in touch any time! * Please note* We onboard new students at the beginning of every month; which means that if you purchase the course between now and the beginning of this coming month, you can have access to the course materials, but we suggest waiting to officially begin the course. In the meantime we're here to get you enrolled, help answer questions and make sure you have everything you need to thrive in the course!
How long will I have access to the course?
You will have access to the course for 8 months from purchase, giving you two full cycles of book discussions to work through the materials. BUT If you decide you need more time with the materials, and/or want to gain access to our bonus expert interviews which we plan to release every month, you can become a monthly member at $10 to continue accessing the course and bonus interviews.
How much of a time commitment does the course material require?
Because most of the course requirements can be completed on your own time, it's pretty flexible. We've estimated the following: 1x book discussions: 1 hr monthly; Reading the selected chapters: 4-6 hrs monthly; Listening/ watching the expert interviews and completing the talk-back forms: 1.5 hrs monthly; The Body Project Training: 6 hours, one time; Exit call and survey: .5 hrs, one time
Are refunds available?
We are unable to offer refunds for this course, as once you have access all materials are available. This applies to both payment options.
Is this course appropriate for treatment providers?
Yes, absolutely! Providers who've taken the course have said that it has increased their understanding of the patient experience, and the nuances of eating disorders and body dissatisfaction. The elements of this course help build a solid foundation of understanding around core concepts like Health at Every Size, letting go of weight as a determinant for health, setting up a support team, deconstructing weight bias and understanding the socio-cultural factors that can contribute to eating disorders and disordered eating. Please note however, that this is a starting point; it is not a substitution for accredited training in the treatment of eating disorders.